Folder playback is a feature that repeatedly plays the music in a folder in order.
You can use it like a playlist.
Even during folder playback, the playback speed and pitch (key) that you set up for each track will be played. Via the setting options, you can select to activate or deactivate the loop setting during folder playback. The default setting is off.
When the loop button

is on, the active loop interval will play repeatedly. By either manually canceling the loop interval or turning off the loop button, the next track will load and automatically play after the current track is fully played.
You can also repeatedly play the music in the folder playlist. For instance, if you set up the folder to play in the order of track A, B, and C, track A starts over again after track C is over. This setting option for repeating music in the folder playlist is located on the settings page of mimiCopy. The default setting is off. When the setting is off, the music will automatically stop once the last track (track C) ends.
How to Replay the Music in the Folder
Move to 'File view' and create a folder.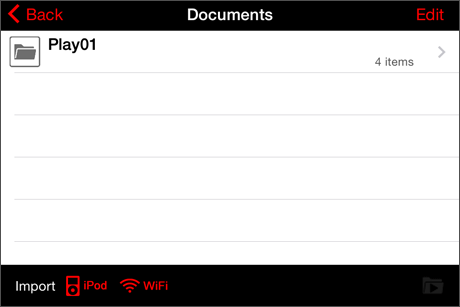 Move the files to the folder.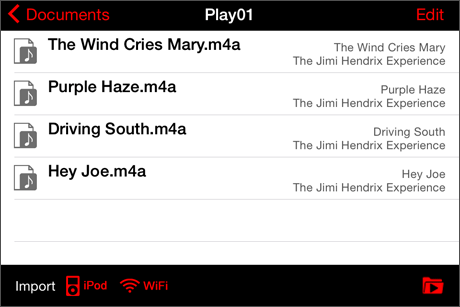 Select the playback order within the folder.
Tap the 'edit' button on the upper right hand side of the screen, drag the selector (the part labeled O in the image below) on the list, and change the playlist order. It plays from the top. Tap the 'complete' button on the upper right hand side of the screen after you arrange the order.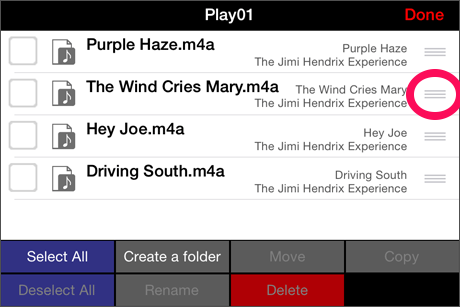 Tap the folder playback button when you're in the same folder as the folder playlist you want to hear. (Button on lower right hand side)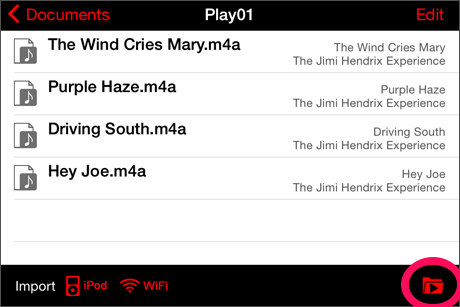 It will go into folder playback mode and take you to the main screen. Then tap the playback button to start the music in the folder.
During folder playback, the folder playback icon will appear in the title bar.

You can also pause the playback, change the loop interval, and adjust the speed during folder playback.
To pause the folder playback and to return to regular playback, go back to file view and select the file again.

[*Note] Make sure that the iPod player is deactivated in the settings to enable folder playback. When the setting is on, the folder playback button will not appear.